OFFICIAL REPORT ON REFUEL18
We get to do it again!!! The entire Refuel Team is exhausted but very, very happy!
Happy that you came, happy that God did so much amongst us, happy that the sun shone (is that how you spell shone??)…happy that lives were changed, happy that souls were saved, hurts healed, gifts discovered, hearts mended, church was glorified and Jesus lifted high in every way!
Most of all we are happy that we did it TOGETHER….whether you were a delegate or a volunteer, there is a real understanding that we are ALL equal pioneers of this new thing in Scotland.
We want to sincerely thank you all for the incredibly sacrificial giving during the week to meet the financial shortfall this year. We have amazingly broke even in year two and, whilst we are still paying for last year, this gives our volunteer team such a boost of confidence for year three. Our faith has been hugely strengthened over the last 2 years in facing the financial risks of an adventure like this and we look forward to being faithful for even greater things in the future! We promise to push forward for "the more" in every way.
We continue to pray that we reach enough delegates in 2019 to never need to ask for an offering again….can you help us achieve this aim! This would be counter cultural in terms of how events like these are run and will enable us to focus on other God honouring areas and serving YOU better and better each year.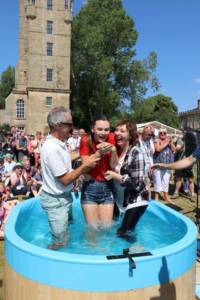 Question – are we the only ones that detect a shift towards greater unity and the blessing that it commands? Things happened at Refuel18 that were not of our planning or doing and were clearly all God. Who would have imagined that folks would want to be baptised!…who knew we could find a pool so easily! God is so good!
It really felt like family and we pray that as we move forward into 2019, we can keep that intimate feeling of one-ship that is often lost in larger gatherings. The dates for next year have been set with the opening night being Sunday 21st July and ending on a single celebration session on the morning of Saturday 27th July. This unfortunately clashes with Soul Survivor again, as we need to cover the English School Holidays. We are in discussions with the Soul Survivor team to look at ways of honouring each others efforts in serving the nations over 12's.
Whilst we enjoyed the wider tent layout this summer, some of you found it a bit of a trek between areas. Fortunately, we have the entire estate to play with next year (ie no weddings to work around on the Saturday night as we have done over the last 2 years!) and we look forward to getting the main tent back down to the beautiful gardens next year. We have so many fun ideas to explore and have started planning already!
We have learned so much again from your feedback forms and look forward to implementing these over the next 12 months and we ask that you keep your thoughts and feedback coming.
The recordings will be ready soon as will the new smoother and easier ticketing facility for next year. We thank you for your patience meantime.
We have a new website, a new Refuel app, new graphics team, more admin team, more volunteers and more ideas to create a banquet before the Lord next summer. If you would like to join with the management team in any way, please get in touch. Each one of us has a gift or a talent to offer.
So…..are you ready….spread the word…..lets watch for that blessing on our nation and our own lives that Unity commands.
We have scattered for the moment but soon…we will gather!
See you in 2019
Love you all
Craig & Denise
& the entire Refuel Team